Frequently Asked Questions
What type of blankets does Project Linus Canada accept?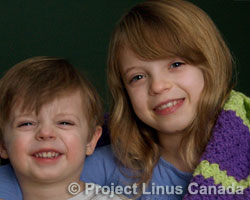 Project Linus welcomes blankets of all styles, including quilts, fleece blankets, crocheted or knitted afghans and receiving blankets. Blankets must be NEW, HANDMADE and WASHABLE. Please use only new fabric and yarns for our blankets. When planning a quilt for a child, use child-friendly colours and fabric prints.
Some chapters are re-looking at the knotted fleece blankets and we would suggest you check with the chapter in your area for their current standing on them.
You don't have to be an expert to create a blanket that is beautiful to a child!
What type of blanket does Project Linus Canada NOT accept?
Project Linus coordinators are instructed to NOT accept blankets that are not free from contaminants. Special care should be taken to ensure that blankets are free of smoky smells or any chemicals which could cause problems for the recipient. Examples of chemicals are "Febreeze", Javex, Fleecy, Bounce. If the fabric and yarns have been stored near paint/paint removers, gasoline and other contaminates, they will pick up the smells and recent studies show that laundering these blankets does not remove contamination and in some cases can even make it worse. Hospitals will not accept these blankets and they will most likely be discarded.
Tapestry, denim, polyester, polyester double knit, felt, vinyl, wool, corduroy, burlap and suiting fabrics are also not acceptable for Project Linus blankets. Non-washable yarns; materials that are not cuddly and soft; and used, soiled or old materials will not make a beautiful blanket we can be proud to deliver to a hurting child.
Should I wash my blanket prior to donation?
Chapter Coordinators are instructed to wash all blankets before donating them to ensure that they are fresh and meet their quality control standards. We would prefer to receive blankets from a smoke free, pet free environment but when there are pets or a smoker in the home, please let the Chapter Coordinator know so she can confirm the smoky odor is gone.
For more information on washing blankets, please refer to our Blanket Guidelines page.
What do you mean by handmade and why?
When we say "handmade" or "homemade" we mean something that is not commercially manufactured or purchased. Of course, home sewing machines, knitting machines etc are fine. It is the mission of Project Linus Canada to donate only handmade blankets. We receive thank you notes from recipients and their families who say over and over how touched they are that a stranger would take the time to make something for them. Purchased blankets are nice but handmade blankets are from the heart.
What about sizes of blankets?
Project Linus Canada donates blankets to children, infants through teens. Many sizes are appropriate depending on chapter need. For example, blankets could be as small as 36"x36". The majority of Project Linus blankets are about 40"x60" or what is called "crib size". Blankets could be as large as twin size for teens. Local chapters may have certain preferences depending on the partnerships to which they donate.
For further information refer to the Blanket Sizes page.
Where can I find a pattern for making a Project Linus blanket?
Project Linus Canada has no set patterns to which you need comply. Whatever pattern you enjoy making, will be treasured by a child and bring comfort during a traumatic incident in their lives.
I know of a child who really needs a blanket. What can I do?
Most recipients receive a Project Linus Canada blanket through a local hospital, shelter or other agency. If you know of a person in crisis who will not likely get a Project Linus Canada blanket from one of these facilities, please visit our Chapters Map Locator page to locate contact information for the Project Linus Canada chapter closest to the person's location.
Where can I find a local Project Linus Canada chapter?
Visit our Chapters Map Locator page to find a chapter near you. Keep in mind that everyone at Project Linus Canada is a volunteer. Personal issues, travel, work and family all take priority at times over chapter duties. Please be patient in waiting for your reply.
There is not a Project Linus chapter in my town/area. What can I do?
First, if possible, contact the nearest chapter to determine the area that they cover. Many chapter coordinators will work with you even if you are not in their immediate area and most have drop off locations established to make donating your blanket easy and convenient. Second, consider contacting any chapter on the list for a mailing address. Most chapter coordinators are happy to receive blankets by mail.
How do I get information about opening a new Project Linus Canada Chapter?
Contact us and let us know of your interest in setting up a chapter in your area. We have an information package that we will send to you with important information to help you get started.
If you have additional questions that didn't get answered in this site, please contact us for details on how to reach us. Any questions pertinent to Project Linus Canada will be used in our Frequently Asked Questions section, with your permission, but without a name or email information.