Contact Us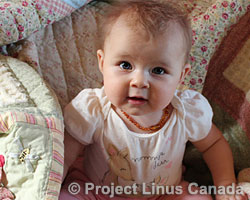 If you want to join us, sponsor us or support us, please contact us as follows:
See our Chapters Map Locator with drop down lists for each province with the coordinators information included there.
Problems with the website? Please email our webmaster
National Office
Project Linus Canada
Box 4468
Stonewall, MB R0C 2Z0
Board Members:
Gayleen Nixon – President, National Coordinator
Judi Janzen – Vice President
Eadie McIntyre – Treasurer
Freda Sewell – Secretary
Sharon Sutton – Public Relations
Janice Kostash – Director
A note on images used on this website: All images with watermarks are copyright Project Linus Canada - they represent actual friends and families related to Project Linus Canada who have graciously allowed their children to be photographed. These images may not be copied, printed or otherwise disseminated in any way or fashion. Please contact the webmaster if you see these photos being used on other websites.